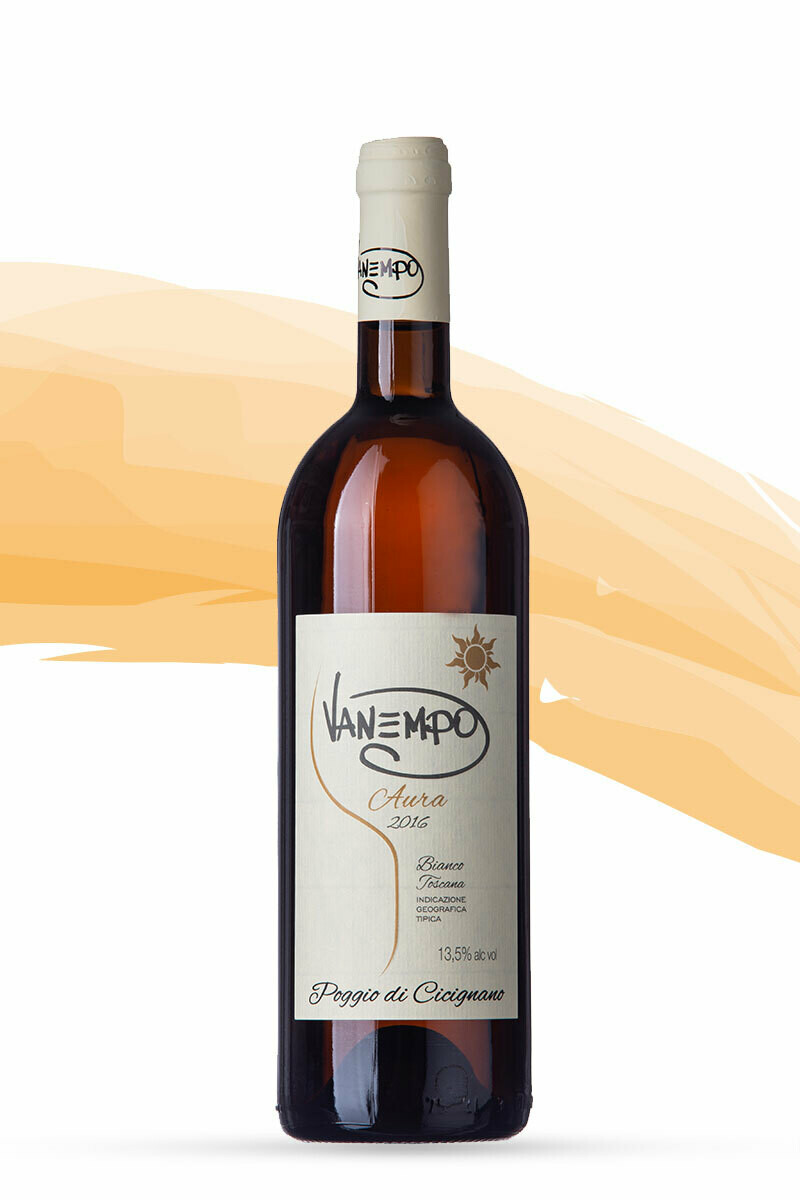 Venempo Aura 2016 Toscana Bianco Poggio di Cicignano
SKU 00017
Product Details
Aura is not a modern, light and easy to drink white wine that demands to be served cold as an aperitif, or with fish and seafood. It is an "orange" wine that expresses the Tuscan tradition of whites "made like a red". This means that after pressing, the grapes remain for a long period of time with their skins. In Aura's case, it is for six whole days, and "remounted" every few hours, meaning the must and skins are mixed together, as the skins normally surface and ferment on top of the must (by comparison, "modern" whites are kept with the skins just an hour or a few hours).

In fact, Aura should be considered as a red wine rather than a "white". In this sense, Aura is a wine that "divides" because it does not fall into a precise category.

San Colombano (45%), Malvasia Bianca (20%) and Trebbiano (35%) grapes give body, spice and fruitiness that with ageing are expressed with increasing strength.

Its dark yellow golden colour, tending to amber, lends its name (Aura means golden). We like the structure and roundness on the palate, the richness of aromas and scents on the nose ranging from peach blossom to orange peel, with almonds and dried figs to complete the bouquet. When savouring it in the mouth, Aura amazes for the remarkable strength and structure that gradually dissolves to make space for a pleasant flavour of dried fruit, figs, nuts and spices. It is never heavy, and can be enjoyed also at room temperature.

It is not a typical fish wine, but a wine that goes well with savoury first courses (pasta and risotto dishes, soups), mature cheeses, white meats, slices of tuna, salmon and in general, fattier fish with a robust flavour. We will also try it with game, lamb or goat. In summer it is an excellent accompaniment to a mixed grill or barbeque. And Marie has found a new favourite alternative to white wine, as it is less acidic and gentler on the stomach!

Aura is aged for at least 13 months in used "barriques", during which the malolactic fermentation occurs, and then it is left to rest for 6 months in bottles. White wines normally do not reach malolactic (secondary) fermentation. It improves over time. "Vanempo", is in fact a syncope of "va nel tempo", which means "it goes through time", but also stands for "in the time that we have left", meaning that this is not the owners' main business. Aura was born from biodynamic agriculture at Poggio di Cicignano, an enchanting hill overlooking the Arno valley.
Save this product for later